Emerging Technician Jobs In The Electric Vehicle Market
The spectrum of job opportunities opening up in the Electric Vehicle Industry is very broad. It will take hardworking technicians of many types to propel the industry into the 2030s, when governments plan to eliminate new gas power vehicles completely. Car companies will require workers in their factories to build and put on the road approximately 19 million cars in the US by 2030. All new car sales in Canada will be electric by 2035. Thousands of trained EV automotive service technicians will be needed to maintain and repair these vehicles as they break down, require service and come off of warrantee. An army of workers and techs will be required to build, install and maintain the vast charging station networks required to power the expanding world of electric vehicles.
Here are some of the leading jobs categories, along with skills and experience requirements that typical employers are looking for now.
EV jobs for Auto Mechanics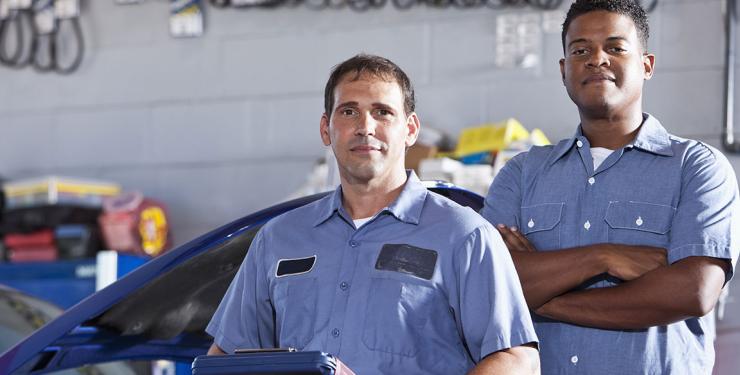 Graduates of our program who have a background as an auto mechanic will generally find employment in EV dealerships where vehicles are brought to be serviced by the manufacturer, or they may work in independent vehicle service facilities where they may be required to work on a variety of EVs from different manufacturers.  EV technicians not only repair EVs but they are also employed by companies who design and manufacture EVs.  These vehicles include everything from E-bikes to electric golf carts to automobiles to large trucks and buses
A sample of responsibilities of these jobs include
Install and validate parts & components on engineering electric vehicles
Provide feedback to design engineers related to Bill of Materials, installation, validation, accessibility and maintainability issues.
Support in-house or field testing of both low and high voltage DC electronics
Perform simple electrical assembly (i.e. wiring, connectors, circuit boards)
Support electric vehicle troubleshooting and testing
Assist engineering team lead in diagnosing failures during vehicle testing and provide back solutions to the team
Assisting technician team with service and repair of electrical, mechanical, and integration issues on electric vehicles and their equipment
EV jobs for Electricians
As electric vehicle sales increase there will be a corresponding investment in EV charging networks; public, commercial and residential and a increase demand for Electricians to install, service and repair them. Electricians and electrical technicians who complete our program can find employment installing, servicing and maintaining EV charging stations.  These stations may be situated in commercial facilities such as parking garages or may be located on the roadside of major roads, as well as interstate highways. EV technicians who work on commercial chargers are responsible for the onsite repair and maintenance of EV charging stations in a specific geographic region, including but not limited to site safety, electrical system maintenance/repair, site field reports, and other duties as required to maintain and operate the site as specified by the employer. 
A sample of responsibilities of these jobs include
Terminate both high and low voltage equipment and cable/wiring, and build automotive-style wire harnesses
Assemble, test, and troubleshoot electrical systems for a variety of EV applications
Perform OEM testing, repairs, and upgrades/ revisions to a broad range of charging equipment, ranging from Level 2 EV chargers to DC Fast Chargers
Troubleshoot EV charger performance issues and locate/isolate ground faults
Perform testing on EV components and devices, including but not limited to; insulation testing (megger testing), thermal imagery, torque tests, and performance evaluations
Work closely with the Planning and Scheduling team to ensure maintenance schedules are adhered to and work orders are completed accurately and on time
Conduct site safety assessments and identify all safety hazards on the job site, properly generate and complete JHA, LOTO, and other safety-related documentation as per OSHA and site-specific requirements
Perform installation, corrective maintenance, preventative maintenance, and software updates on EV charging units of various makes and models
Perform component level diagnostics, utilizing laptop, DMM, phase meters, and other tools, to diagnose failed units and determine required repairs
Review charging station site manuals and drawings to ensure proper service and maintenance of equipment
EV jobs for workers with general experience but not Auto Mechanic or Electrician
There are a wide range of employment opportunities for graduates of our program who have general experience but no prior background in the automotive or electrical industries.  These are often entry-level positions and in many cases the companies provide on-the-job training on specific products and services that they provide.  For these positions, the purpose of our program is to demonstrate to prospective employers that our graduates have achieved a level of knowledge and competency that will enable them to be a productive employee that is capable of learning even more complex tasks, and that they have achieved a fundamental understanding of safety procedures, problem solving, and troubleshooting techniques. 
A sample of responsibilities of these jobs include
Assemble sub-systems up to EV builds and maintaining strict adherence to sequence of operation, quality standards and work instruction(s)
Perform quality inspections and tests on EVs as required
Maintain company provided tools and equipment secured and in good working condition
Ensure that the shop is in excellent condition regarding cleanliness, safety, and equipment condition to minimize production down time and support Lean Manufacturing Initiatives
Apply sound problem-solving skills to achieve high quality standards for internal customers in a fast-paced work environment with minimal supervision
Builds and assembles mechanical components for EV prototypes and customer samples
Performs wiring and installation of electrical systems for commercial vehicle (both low and high voltage)
Maintains inventory of consumable components and requests re-stocking
Follows prescribed instructions to conduct various manual procedures
Utilizes electrical measurement equipment and documents results
Diagnose e-bikes and perform repair/replacement of motors, control electronics and batteries
Support the commissioning, modification, and repair of electric and hydrogen-electric vehicles in the Vehicle Engineering garage at the company's newly equipped garage
For more info about our EV program please contact a Program Consultants toll-free at 1-888-553-5333 or email us at info@gbctechtraining.com.  
Comments
Submitted by Adam Bilal (not verified) on Sun, 01/01/2023 - 19:56
Hi,
I am a Pakistani resident and highly interested in the EV Technician program. The industry is at its juvenile stage in Pakistan. What are the perspectives of jobs and support from the college to secure a job in Canada, after graduating from the program. Kindly advice.
Thank you.
Submitted by iris on Tue, 01/03/2023 - 08:41
The EV program is a distance education-based training program. As such, we do not provide job or immigration support to students wishing to immigrate to Canada.