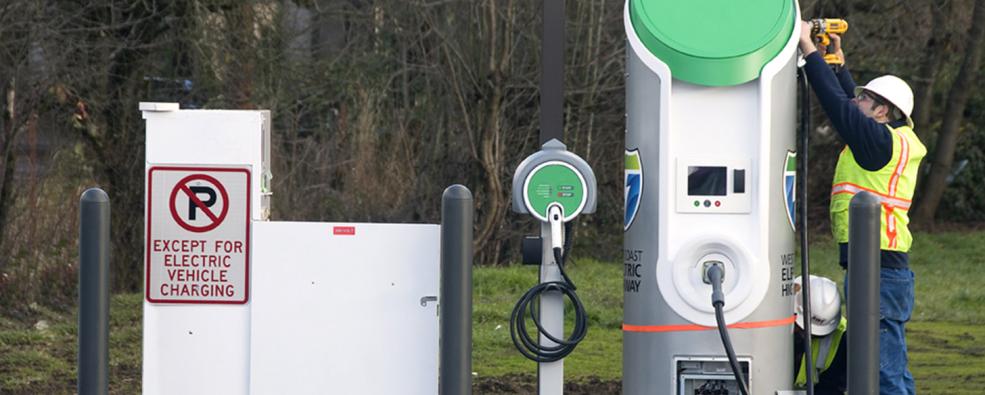 Electric Vehicle Technician Careers & Job Opportunities
Whether you are an Auto Mechanic looking to service and repair electric vehicles or an Electrician looking to install, maintain, and repair charging stations, GBCs EV Technician program can help your acquire the knowledge and skills to help propel your career forward.
The auto market is seeing unprecedented growth, but no segment is growing more quickly than electric vehicles. A number of factors have contributed to strong momentum and penetration of EVs including stricter emission regulations, lower battery costs, more widely available charging infrastructure, and increasing consumer acceptance.  In 2015 there were 580,000 EVs sold worldwide.  In 2021 there were 3.5 million EVs sold and by 2025, 25% of cars sold will have electric engines. This exponential growth in EV sales will require major changes to the workforce. 
Electric Vehicle (EV) Technician diagnose, service and repair high voltage EVs and commercial charging stations. Entry-level electric vehicle technicians may find employment with manufacturers, dealerships, or repair shops. New technicians may be assigned to more experienced mechanics in order to gain experience with complex tasks.
Automotive Mechanic
Most Auto Service Technicians don't have the experience or expertise to work on electric cars. They typically have a strong background in internal combustion engine (ICE) powered vehicles but lack the knowledge and skills in power electronics and data communication systems to safely perform service-related work on EVs and Hybrid Electric Vehicles.  
Manufacturing Jobs in the Electric Vehicle Industry Include:
Electrical and electronic equipment assemblers
These assemblers build many of the parts in electric vehicles, including electric motors, computers, electronic control devices, and sensing equipment
Electromechanical equipment assemblers 
These assemblers use a variety of tools to build the electromechanical parts, such as gasoline engines, electric motors, and generators, that are used in electric vehicles.
Computer-controlled machine tool operators 
These workers use special computer-controlled machines to make metal and plastic parts for electric vehicles 
Many of the occupations involved in manufacturing electric vehicles are also involved in the manufacture of vehicle charging stations, which are necessary for plug-in hybrid and battery-electric vehicles. These stations are usually purchased along with the vehicle and installed at the owner's home or workplace. In addition, commercial charging stations are now being installed throughout the country.
Occupations in Maintenance 
Repairing or installing electric vehicle batteries requires workers who are trained to work with specific types of batteries. Employees may work in the service centers of the dealerships where electric vehicles are sold. Others work in independent repair shops. Automotive service technicians and mechanics must be able to work on high-voltage electrical systems. And they need to be familiar with other parts and systems specific to these vehicles, such as lithium-ion batteries and electric generators.
Occupations in Infrastructure Development
With the number of electric vehicles increasing, a corresponding need has emerged to develop a nationwide infrastructure to support them. According to a study by the Center for Entrepreneurship and Technology at the University of California, Berkeley, the largest source of job creation related to alternative fuel vehicles is expected to come from the construction of a nationwide charging infrastructure.
Electricians will be an important aspect of this development. They will install charging stations and any other electric equipment needed to support electric vehicles. They attach the charging stations ensure that the chargers are working properly and when there is a problem with the charger, make repairs.