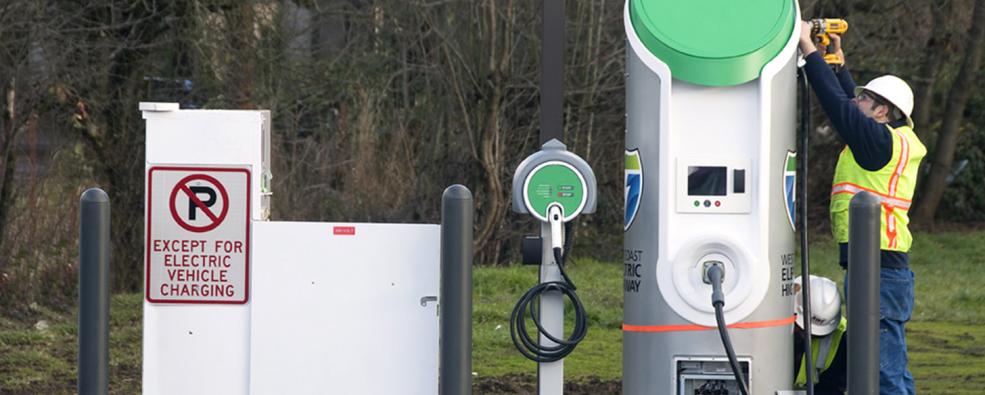 EV Jobs for Electricians
As electric vehicle sales increase there will be a corresponding investment in EV charging networks; public, commercial and residential and a increase demand for Electricians to install, service and repair them.
Electricians and electrical technicians who complete our program can find employment installing, servicing and maintaining EV charging stations. These stations may be situated in commercial facilities such as parking garages or may be located on the roadside of major roads, as well as interstate highways. EV technicians who work on commercial chargers are responsible for the onsite repair and maintenance of EV charging stations in a specific geographic region, including but not limited to site safety, electrical system maintenance/repair, site field reports, and other duties as required to maintain and operate the site as specified by the employer.
EV trained Electricians work in wide variety of jobs with many different titles, including:
EV Charging Field Service Technician (most common title)

Field Service Technician (charging stations)

EV Charger Technician

EV Charging Installation Technician
Here are a sample of EV Electrician Responsibilities:
Terminate both high and low voltage equipment and cable/wiring, and build automotive-style wire harnesses

Assemble, test, and troubleshoot electrical systems for a variety of EV applications

Perform OEM testing, repairs, and upgrades/ revisions to a broad range of charging equipment, ranging from Level 2 EV chargers to DC Fast Chargers

Troubleshoot EV charger performance issues and locate/isolate ground faults

Perform testing on EV components and devices, including but not limited to; insulation testing (megger testing), thermal imagery, torque tests, and performance evaluations

Work closely with the Planning and Scheduling team to ensure maintenance schedules are adhered to and work orders are completed accurately and on time

Conduct site safety assessments and identify all safety hazards on the job site, properly generate and complete JHA, LOTO, and other safety-related documentation as per OSHA and site-specific requirements

Perform installation, corrective maintenance, preventative maintenance, and software updates on EV charging units of various makes and models

Perform component level diagnostics, utilizing laptop, DMM, phase meters, and other tools, to diagnose failed units and determine required repairs

Review charging station site manuals and drawings to ensure proper service and maintenance of equipment

In fieldwork including electrical and mechanical preventative and corrective maintenance of site equipment, site field reporting, work order completion, and other work as needed

Ensure quality assurance (QA) standards are met for all work performed on-site

Communicate with internal and external customers, as required

Generate professional service specific reports using a work order system that can be presented to the customer

Ensure that all issues at the site are documented in the work order system and are addressed in a timely manner

Provide safe and careful installation of charging station equipment at client sites, adhering to guidelines set forth in the NEC Codebook, blueprints, and the spec book for a project, and understanding of the NEC codebook as well as practical application on the job

Perform service work according to agreed workflows and in accordance with customer standard processes and safety guidelines while delivering excellent customer service to satisfy customers•

Perform service tasks, identifies technical problems, and makes analysis through remote or on-site activity in any service categories (including installation and commissioning, maintenance, repairs, engineering and consulting, advanced services, extensions, upgrades and retrofits, end of life services, replacements, etc.)

Ensure that OSHA and Ecology Action safety protocols are followed

Coordinate, prepare and ensure that all materials, parts and equipment are available and at the appropriate quality for service activities

Troubleshoot equipment failure and makes recommendations to avoid repeating the problem in the future

Apply safety rules and safe practices as well as environmental responsibilities

Perform risk management

Conduct site assessments and evaluate the electrical systems of multi-family properties, conduct electrical panel load and power studies, create EV charging station designs, and work closely with direct installation contractors and City/County planning departments to ensure successful completion of code-compliant EV charging installations
Here's a sample of some companies hiring EV Electrician Technicians
| | |
| --- | --- |
| New Eagle | MI |
| Winn-Marion Companies | TX |
| World Wind & Solar | CA |
| EVGo | IL |
| Teamex | NJ |
| Pearce Services | WA |
| City of Kirkland | WA |
| EV Connect Inc. | WI |
| Varg Electic | ON |
| Stellantis | ON |
| Tesla Inc. | FL |
| Visionet Systems Inc. | TX |