How Much Do EV Technicians Make?
The average salary for an Electric Vehicle (EV) Technician will vary depending on experience, region, and the specific area you are seeking employment in. Pay ranges for these jobs will also rise steadily for more experienced workers. It is important to note that different types of jobs opportunities within the EV sector have diverse education and training requirements that will impact salary levels. Charging Station Technicians, for example, may need to connect the EV charging station to an electrical service, therefore require more qualified and tech knowledgeable workers.  
According to Talent.com the average annual salary for an EV Charging Field Technician in the United States is $64,838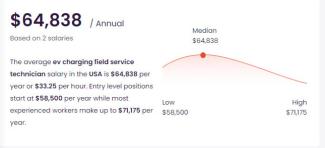 The average salary average annual salary for an EV Auto Technician in the Unites States is $68,250.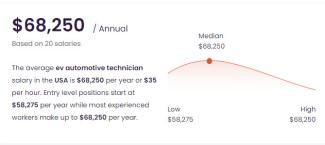 Acquiring in-demand skills
The career path to servicing and installing electric charging stations or diagnosing and repairing electric vehicles starts with a solid foundation in power electronics and high voltage circuits. Gaining these skills can be relatively simple with the right education
Our EV Technician program can provide real-world, "hands on" experience with simulation software.  If you have any questions about the EV Technician Certificate, you can speak to a Program Consultant toll-free at 1 888-553-5333 or email us at info@gbctechtraining.com.