Electromechanical Trends in the Automotive Industry
As efficient as modern manufacturing processes have become, owning and operating a smart factory is not without its challenges. Finding ways to produce goods more quickly, with a greater degree of safety, at a higher quality, and at a lower cost are all facets of manufacturing that are urgently being iterated upon, even by industry leaders in the automotive sector. Failing to acknowledge and adapt operations for Industry 4.0, means that attempting to achieve the goals listed above will only yield, at best, diminishing returns for the company. 
With so much competition to be the biggest, the best, and to reach more end consumers, what exactly are modern companies doing? This article will take a look at some of the latest manufacturing trends in the automotive industry.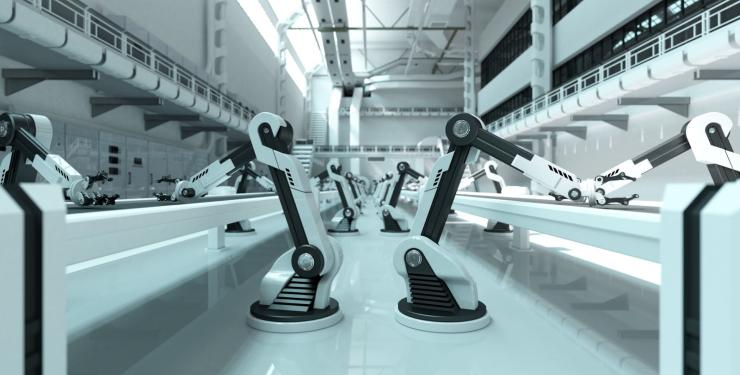 Overview
Of course, automotive companies are not the only manufacturers investing heavily in robotics, automation, IoT, and the collection and analysis of big data, but they can often be considered early adopters of the kinds of technology that tend to revolutionize a manufacturing process. The statistics, in the way that data does, speaks for itself. According to a 2020 report published by the Capgemini Research Institute, the overwhelming majority (98%) of large cap automotive manufacturers (with 2019 revenues in excess of $1 billion) from across the globe are already busy moving forward on their respective smart factory initiatives, with nearly half of them (48%) making good progress on meeting their targets, a figure that is 10% higher than that reported in 2018. Forty eight percent may not appear to be a striking figure, even with a year over year uptick of 10%, but the report also indicated that the cumulative investment into things like cloud computing, 5G networks, virtual assembly technologies, autonomous industrial equipment, cobots, drones, and additive manufacturing is expected to increase by 60% by 2023. Those technologies and figures may mean little to the end consumer, automakers hope this investment will result in nearly $160 billion in annual productivity gains, which can impact cost of goods sold and the quality and longevity of the product sold.   
Technologies
The types of technologies that will continue to drive the automotive industry to greater smart factory adoption were briefly mentioned in the preceding section, but those deemed most critical to the success of the smart factory of tomorrow will be discussed in greater detail below. 
Industrial IoT: You might already be familiar with IoT or the Internet of Things. After all, many of the devices found in the average home are IoT-enabled. Industrial IoT is intrinsically more complicated as it requires innumerable sensors, instruments, and devices to be networked together regardless of its location. IoT connectivity is vital to data gathering activities and process optimization but only 20% of automakers believe that IoT can be scaled, even though roughly a third of automakers believe it will yield significant benefit.  
Private 5G Networks: With its promise of vastly greater speeds and lower latency relative to the previous generation of networks, private 5G networks are integral to an automaker's digital transformation.
The Convergence of Information and Operational Technologies: It goes without saying that a successful smart factory will have a seamless integration between IT and OT technologies. Connectivity of systems, from the design to production will play a big role in the success of automotive smart factories, but of the automakers polled by the Capgemini survey, less than 40% of firms have put in place the modelling necessary for IT and OT to work in synchronization. Perhaps most interestingly, only around 30% of respondent companies admitted they had a clear view of all the various data flows and processes that would allow the synchronization of those systems.
Examples
Like anything else, there are some companies that are doing better than others when it comes to adopting cutting edge technologies. Let's take a look at a few of the automotive industry leaders.  
Mercedes-Benz. The German-based automotive manufacturer has long been synonymous with quality and precise-engineering. It has already used advanced technology to simulate the entire production process virtually. This includes over 4,000 different processes that can be examined and optimized before any physical production actually begins. If that wasn't enough, Mercedes-Benz is also in the process of building a highly sophisticated smart factory that will be used to build hybrid, electric, and self-driving vehicles. What makes this particular smart factory interesting is that the factory will use machine learning and data analytics technology to create both self-learning and self-optimizing production systems.

BMW. Another German-based manufacturer, BMW plans to further expand and heavily invest in their largest automated facility located in the United States to the tune of $1.6 billion.

Audi. Like BMW, Audi is expanding a great deal of capital ($1.3 billion) to build a smart factory in Mexico.

Harley-Davidson. Harley-Davidson was able to shrink a 21-day production cycle down to just six hours by implementing the right technologies and optimizing their processes.
Getting Revved Up for Industry 4.0
Clearly the auto industry appears to be hitting the gas when it comes to developing smart factories. As the technologies involved with Industry 4.0 continue to progress and increase factory efficiency, more and more automakers will undoubtedly join in on the smart factory revolution. Staying up-to-date on current trends is important when working within the smart manufacturing sector, especially when you take into consideration its competitive nature. For more information, check out the George Brown College electromechanical technician program, which prepares students for this growing industry.